We offer private service, and charter service between Springfield/Hartford, Bradley International Airport and Amherst College, Deerfield Academy, Hampshire College, Mount Holyoke College, Smith College, University of Massachusetts, Northfield Mount Hermon School and Williston School. We also provide service to residents and visitors of Amherst, Deerfield, Greenfield, Northampton and other Western Massachusetts areas.
If you need transportation for your School trips, Day trips, Conference, Tours, Weddings or just an airport transfer from/to (Bradley Airport, Logan Airport), as well as Springfield Bus station, train station, our affordable fares, door to door service, professional and courteous staff, pristine and insured vehicles that range from Hybrid cars & Vans…are among the reasons why we beat other airport shuttle transportation services for ease and efficiency.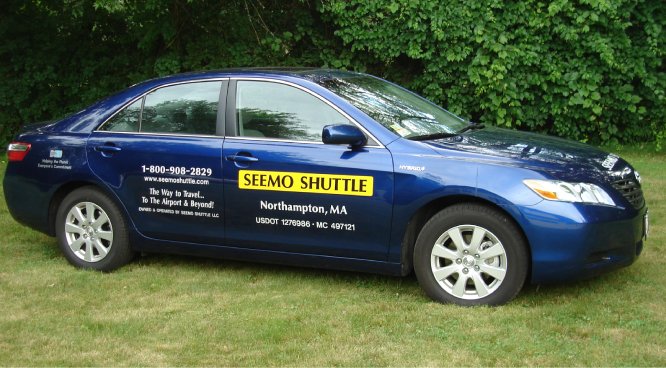 Excellent, courteous and timely service
"… Seemo Shuttle has provided excellent, courteous and timely service on each of the occasions where I needed transportation for Smith activities. During the past three years, I have frequently needed to arrange for transportation for foreign scholars visiting Northampton and Smith College and for Smith professors traveling abroad as well. It is a pleasure to have Seemo to depend on for our transportation needs."
Jim H.
Director, American Studies.
Very good service
"…Seemo Shuttle has taken my faculty members to Hartford and Boston airports, to the Springfield train station and various other destinations. Seemo has also transported visiting lecturers and visitors for my departments. We have always been pleased with the service and the drivers. Mr. Seemo took several of my Italian department members (and spouses) to the Boston airport for a flight to Italy. When they returned they all praised Seemo Shuttle and remarked about how accommodating the driver was. Making reservations is easy using the online form and confirmations are prompt.
Jeanne W.
Foreign Languages Office, Smith College.
Very pleased !
"…Your transportation company has provided great service from Bradley Airport to Umass, our conference attendees were very pleased"
Susan L.
University of Massachusetts Amherst.
Very pleased !
"…Your transportation company has provided great service from Bradley Airport to Umass, our conference attendees were very pleased"
Susan L.
University of Massachusetts Amherst.
I highly recommend
"I highly recommend Seemo Shuttle. Their transport service is reliable and punctual. The drivers are friendly and cooperative. The vehicles are spotless. It has been a pleasure to travel with them from JFK to Massachusetts. Dave, the driver who usually picks me up, is a wonderful guy!"
Wendy B.
Dean of Students Deerfield Academy.
Wonderful services
"I just want to thank you once again for the wonderful services you and your employees provided to the four individuals who recently visited our department in Smith College. Please extend this thank you to the appropriate drivers"
Barbara D.
American Studies Program Smith College.
Exemplary service
"I wouldn't think of traveling to Bradley Airport with anyone but Seemo Shuttle. Their service is exemplary. Their drivers are prompt and courteous and their on-line scheduling system is fast and simple. Thank you Seemo Shuttle for exceptional service on 12 out of 12 roundtrips to Bradley in the past 6 months. You're batting a thousand."
Paul W.
Professor Umass Amherst.
Great service
"Thank you so much for your great service. I heard wonderful comments from my clients and I am personally very impressed with your courtesy and your customer service. I found your online registration very easy and really appreciated the email confirmations. Every time I called to change a ride you were accommodating. I have total confidence in your service. I also heard very nice things about your drivers, as well."
Katherine H.
Associate Director, Smith Executive Education.
Fabulous
"I am writing to thank you again for your help on Friday night. We could not have done it without you, I have already told Wendy Bradley how fabulous you were"
Holly C.
(Student's Mom) Deerfield Academy.
Excellent service
"Seemo Shuttle offers reasonable rates and is dependable. Our students have received excellent service for their transportation needs between the airport and the school"
Rose C.
Deerfield Academy Admin .Asst.
Happy to recommend Seemo Shuttle
"I will be happy to recommend Seemo Shuttle and use your service in the future"
Louise B.
Department of Fine Arts Amherst College.
"I like the fact that you guys do not make million stops, and you are cheaper, I will definitely tell my friends about you, keep up the hard work"
Nancy
Hampshire College Student.
Thank you
"Thank you for your service, if I ever need a shuttle again from Amherst to Bradley Airport, I will give you a call."
George
Umass Amherst
Very professional
"Your Minibus Driver was very professional and punctual, your Minibus was very clean. Vielen Dank!"
Andreas M.
Germany
I definitely recommend
"I will definitely recommend you guys to my friends, they usually need a ride between Amherst and Bradley Airport, you make less stops and you are cheaper than a cab."
Erin C.
Amherst Mass.
Very helpful
"I like the service provided by your driver, Brandt. He was very patient with me, I was abroad for one semester I didn't know where the new location for Smith College public safety was, he didn't just show me where it was, he actually waited while I picked up my room keys then he drove me to my dorm, I appreciate the patience and the door to door service, I did not have enough cash to tip him, I feel this is the least I could do. Brandt I will get you next time."
Sarah
Smith College Student.
The transportation service between Boston Logan Airport and Mount Holyoke College was smooth, your Minibus driver was very patient and helpful."
Satoshi W. Japan
Thank you
"Thank you for all your help during the conference. Our group was very happy with the service you provided from Bradley Airport to the conference.
Anne S.
Group Coordinator Amherst MA.
2019-02-06